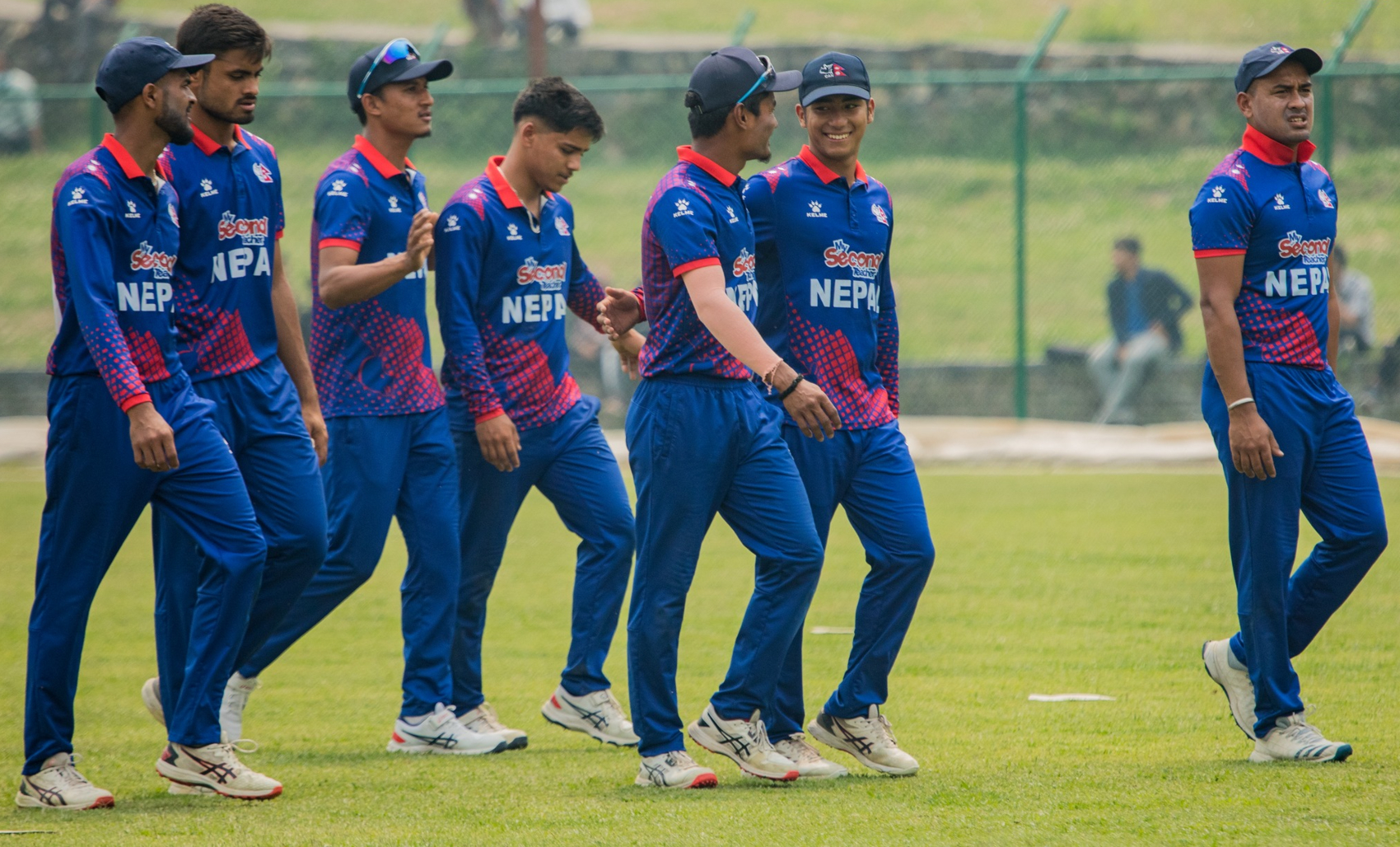 Photo: TYT
Nepal and Oman won their respective semi-finals at the ICC's Asia region qualifiers to book their spots at the 2024 men's T20 World Cup.
While Oman routed Bahrain by ten wickets, Nepal overcame UAE in a tricky chase to win by eight wickets.
Aqib Ilyas took a four-wicket haul, giving away just ten runs in the process, to help Oman restrict Bahrain to 106 for 9. Openers Kashyap Prajapati and Pratik Athavale pulled off the chase without fuss, finishing the job with under six overs to spare.
For Nepal, frugal spells from spinners Kushal Malla and Sandeep Lamichhane kept UAE down to 134 for 9. Vriitya Aravind hit a half-century, but found little support from the other UAE batters. Nepal opener Aasif Sheikh then hit an unbeaten 64 to seal victory for his team.
With Nepal and Oman qualifying for the 2024 T20 World Cup, which will be held across the West Indies and the USA next year, 18 teams have finalised their spots. The final two spots will be decided at the Africa qualifier, which will conclude at the end of the month.
While hosts West Indies and USA have automatic berths, Australia, England, India, New Zealand, Netherlands, Pakistan, South Africa and Sri Lanka qualified by virtue of being the top eight teams in the 2022 edition of the competition. Afghanistan and Bangladesh were the two next-highest-ranked teams in the format and, as a result, sealed their spots. Ireland and Scotland have since qualified from the Europe region qualifiers, while Papua New Guinea made it from the East Asia-Pacific region and Canada from the Americas region.
Nepal 135 for 2 (Sheikh 64*, Paudel 34*, Hameed 1-18) beat UAE 134 for 9 (Aravind 64, Malla 3-11, Lamichhane 2-14) by eight wickets
At a packed Mulpani Cricket Ground, UAE opted to bat and started strong, racing to 29 without loss in three overs. But Khalid Shah was run-out on the first ball of the fourth, and three balls later Sompal Kami dismissed the marauding Muhammad Waseem.
Aravind built for UAE, with a couple of steady partnerships with Asif Khan and Alishan Sharafu, but Malla and Lamichhane went through the rest of the line-up, picking five wickets between them, with some help from captain Rohit Paudel, who picked up a wicket in the only over he bowled.
Sheikh and Kushal Bhurtel got Nepal off to a solid start in the chase before Nilansh Keshwani struck in the third over. But Sheikh put on a 41-run stand with Gulshan Jha and eventually finished the game off in the company of his skipper.
While Sheikh brought up a fourth T20I half-century, Paudel raced to 34 not out off 20, hitting two fours and two sixes.
This will be Nepal's second appearance in the T20 World Cup, ten years after they first qualified in 2014.
Ilyas and openers flatten Bahrain
Oman 109 for 0 (Prajapati 57*, Athavale 50*) beat Bahrain 106 for 9 (Imran 30, Ilyas 4-10, Shakeel 2-24) by ten wickets
Aqib Ilyas' fantastic spell of 4 for 10 helped Oman keep Bahrain down to a below-par total before their openers hit unbeaten fifties to take Oman to their third T20 World Cup.
By the time Ilyas was done with his four-wicket haul, Bahrain were seven down and only managed to drag themselves to 106. Apart from a 42-run stand for the second wicket, Bahrain's batting effort did not have too much to write home about.
For Oman, Shakeel Ahmed chipped in with two wickets, while Fayyaz Butt, Bilal Khan and Zeeshan Maqsood took one apiece.
With a paltry target in front of them, Prajapati and Athavale ensured there were no slip-ups in the powerplay, while striking at more than six an over. Prajapati brought up his half-century off 39 balls, hitting the only two sixes of the game in the process.
Athavale reached his half-century with two consecutive boundaries in the 15th over, the second of which also sealed the win for Oman.