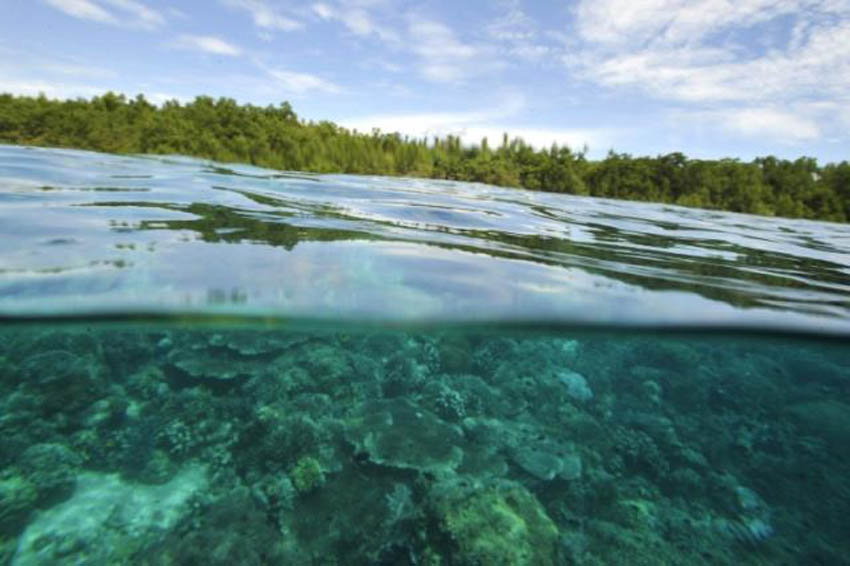 Residents of the Indonesian island of Pulau Pari want Swiss cement giant Holcim to compensate them for climate-related damage. Photo: ROMEO GACAD / AFP/File
Zurich (AFP): Residents of the Indonesian island of Pulau Pari have filed a complaint against the cement giant Holcim, demanding compensation for climate damage, in the first move of its kind in Switzerland, the NGO backing them announced Wednesday.
The case is part of a wider international movement asking major companies to assume their responsibilities in the face of climate change which affects the livelihoods of millions of people, especially in the Global South.
"For the first time, a Swiss company must answer for its role in contributing to climate change in court," said Swiss Church Aid (HEKS), a non-governmental organisation which advocates for climate justice.
The complaint, brought by four residents, requests that Holcim pay compensation for the damage already caused on the island and finance flood protection measures.
They also demand that the Swiss group rapidly reduce its carbon dioxide emissions.
"The world market leader in the cement branch is doing too little to reduce its emissions so that global warming does not exceed 1.5 degrees (Celsius)," said HEKS, referring to the aspirational target set in the 2015 Paris Agreement on climate change.
Pulau Pari, north of Jakarta, risks disappearing under rising sea levels, and flooded five times last year, according to the NGO.
In July, three men and one woman from the picturesque, flat island filed an application for conciliation in Zug, the Swiss canton home to Holcim's headquarters.
"But, during the conciliation proceedings, Holcim made no indication that it was willing to address their concerns," HEKS said, despite the small sums of money involved.
Therefore, on Tuesday, the four islanders filed a civil complaint against Holcim on behalf of the entire island at the Cantonal Court of Zug.
The four plaintiffs -- three men and one woman -- are each claiming 3,600 Swiss francs ($3,900): 100 francs for individual damages; 1,000 francs for moral damage and 2,500 francs to finance planting mangroves and other measures to protect the island from flooding, their lawyer Cordelia Bahr told a press conference.

Creating a precedent
HEKS said Pulau Pari had lost 11 percent of its surface area in the past 11 years.
Climate change threatens the livelihoods of "all 1,500 people living on Pari -- even though they have done nothing to contribute to the warming of the climate," the NGO said.
One of the plaintiffs, speaking through an interpreter via video link, said the floods affected the wells that provide water for daily use, damaged the papaya and banana trees and rusted the motorbikes that are used for transport on the island.
"A case like this has never been in front of a Swiss judge," said Nina Burri, the HEKS business and human rights manager, saying it would "create a precedent".
Climate-related litigation against governments, fossil fuel firms and a growing array of other companies has surged in recent years.
Of the 2,000 or so legal cases filed since 1986, 475 were started since the beginning of 2020, according to a report last year by experts from the Grantham Research Institute at the London School of Economics university.

Long road ahead
In a statement, Holcim said the climate was at the heart of its strategy.
"We take a rigorous, science-driven approach on this journey," it said.
"We do not believe that court cases focused on single companies are an effective mechanism to tackle the global complexity of climate action."
Holcim has set itself ambitious climate targets, seeking to be a pioneer in the construction sector, which is a major producer of greenhouse gases.
In aims to reduce certain types of emissions by 25 percent per tonne of cement compared to 2018.
But Yvan Maillard, who leads HEKS's climate justice work, said: "Holcim is selling it as very green. but if you make a detailed analysis, you see that it not a pioneer and not doing enough."
The legal team estimates that the process could take three to four years if the complaint goes all the way to the highest court in Switzerland.
In 2019, Holcim sold its Indonesian operations to local cement company Semen Indonesia.