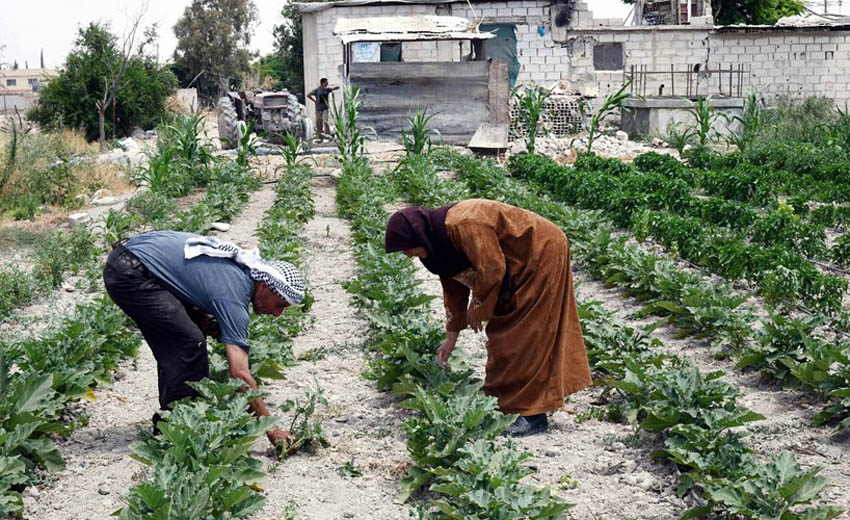 Syrians check the growth of vegetables they planted in a stretch of land near their home in the countryside of Damascus, last weekend. Photo: XINHUA/PA
More than 22 million people in Yemen and Syria are "in crisis or worse" in terms of food security, according to the UN World Food Programme (WFP). In its 2020 Global Report on Food Crises, it says that 6.6 million of these are in Syria, and 16 million are in Yemen.
Although violence abated in the critical port city of Hodeida, on Yemen's Red Sea coast, after an agreement in 2018, the report says that "conflict increased in other areas and fighting continued across 10 out of 22 governorates. The protracted conflict continued to severely disrupt economic activity, damage infrastructure, destroy public services and restrict access to markets and services."
As many as two million children, aged between six months and five years, are acutely malnourished, 400,000 of them severely so, the WFP says.
Nine years into the crisis in Syria, the report continues, "The scale and complexity of humanitarian needs and protection concerns remained high. In the north-east, increased conflict since the onset of the Turkish-led military offensive in October 2019 resulted in civilian deaths and significant displacement."
Much of that displacement has been into north-west Syria. World Vision's district co-ordinator in the country, who cannot be named, said on Tuesday of last week that the region was now overcrowded. It had become "very difficult to get enough food and safe drinking water. Much of the infrastructure has been destroyed, and the roads are in a very bad condition, making it harder to transport life-saving aid." Another problem is that "the majority of those who are displaced don't have jobs; so can't afford to buy food."
The World Vision co-ordinator said: "We are deeply concerned for the over nine million Syrians across the country who are already going to bed hungry each night. For them, this is life or death."
The policy and communication adviser for Oxfam in Syria, Matthew Hemsley, said that, "as the economic situation has worsened, with the Syrian pound buying less than ever before and the dramatic rise in food prices, the impact has been devastating. Families with very little are having to cut back even further, limiting meals and going without. We spoke to one woman who told us that they could feed their children, but adults only ate if there were leftovers."
Although there are supplies of food in shops and markets, Mr Hemsley continued, "There's also a concern that farmers are struggling to harvest their next crops. During a recent seeds and saplings distribution in Ghouta, one farmer told us that had we not given him the seeds, he could have had no money to buy them."
While the food crises are most severe in Yemen and Syria, other Middle Eastern countries also face problems. In Iraq, for example, the WFP says that "widespread protests and insecurity had significant impacts on humanitarian operations," and intermittent curfews were "resulting in missions being delayed or cancelled".
Although millions of displaced people have returned home over the past three years, "intercommunal and societal tensions persisted on multiple fronts and the spectre of armed conflict and renewed displacement lingered."