Photo Credit : DailyMailonline
The heroic man manages to break the boy's fall by catching his ankle from the tiny ledge
A man was hailed a hero after catching a falling toddler while balancing on a tiny ledge in east China.
The incident in Shandong province almost became a tragedy when a two-and-a-half-year-old boy plummeted from the fourth floor of an apartment building.
Fortunately, a Good Samaritan saved the day by managing to catch the falling toddler while standing on a 19in wide ledge three floors down.
Residents below watched on in horror as the boy was seen wobbling dangerously.
A second footage shows the man dangling the boy from his ankle on the first floor, reportedly after successfully breaking his fall.
The man, leaning hard against the building's wall to balance himself, then dragged the boy up and passed him to another person in the second-storey flat.
The ledge was reportedly only 50cm (19in) wide, according to Shangdong news agency Da Zhong.
The man then drags the boy up and passes him safely to another person in the flat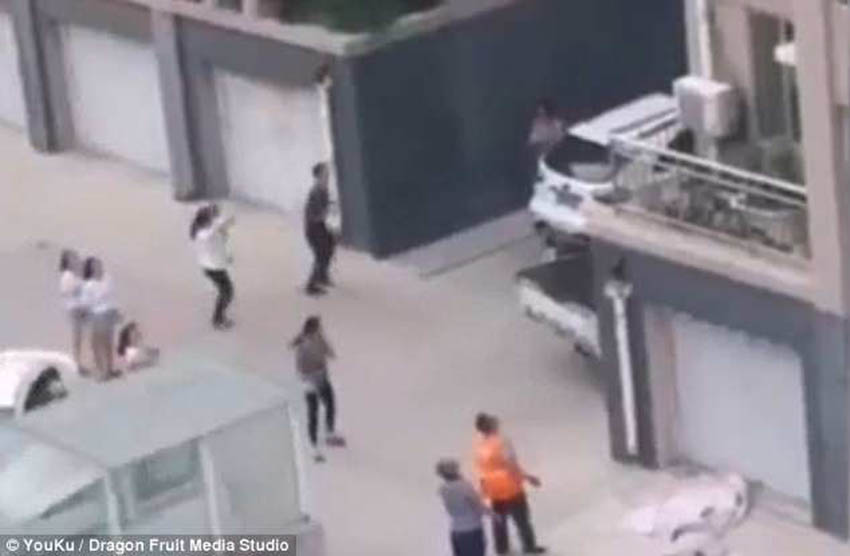 Residents below watch on in horror as the boy was seen wobbling dangerously
The fearless man was identified as Liu Yangming from Chengle County and a retired soldier.
He reportedly heard a commotion outside his flat and saw the boy on the ledge. He then knocked on each flat on the same side of the building and luckily a resident on the second floor was at home.
It is unclear if the child's carers were in the flat when the heart-stopping incident occurred.
Residents and netizens praised the kind neighbour, saying that if the boy was a tad heavier, the man could have been knocked down by the impact.
Primarily Published at : Dailymail Online