Photo Credit :  Power Sport Images | Getty Images
Lionel Andres Messi of FC Barcelona celebrates after scoring his goal during the La Liga 2017-18 match at Camp Nou between FC Barcelona and Atletico de Madrid on 04 March 2018 in Barcelona, Spain.
On the surface, Lionel Messi has always represented the same player: the goalscoring machine, the willing provider, the dribble king. Throughout his career, he's slalomed around markers and deftly placed shots into the corners of the net using the same techniques, an unchanging yet still unbeatable presence in Barcelona's attack.
But beneath that surface layer, his position, role and tactical instruction has been consistently tweaked to suit the many different managers he's played for over the last 14 years. These have culminated in three major shifts in how he plays the game since debuting in 2004: one instigated by Pep Guardiola, the next (a reintroduction of a previous form) by Luis Enrique and this latest one by current manager Ernesto Valverde.
These shifts have coincided with stylistic changes in Barca's play, sending Messi into different domains and asking alternative things of him. He's adapted with ease, riding each new wave to another truckload of goals and assists—despite the fact that two of the three shifts have placed an almighty burden on his shoulders, including this latest one.
Messi 1.0: The Slaloming Winger
BARCELONA, SPAIN - NOVEMBER 27: Leo Messi of Barcelona and Vitolo (L) and Antonio of Racing are seen in action during the match between FC Barcelona and Racing Club de Santander, of La Liga, played at the Camp Nou stadium in Barcelona, Spain. Photo Credit : Luis Bagu | Getty Images
The "first" version of Messi has been seen at two distinct points in his career: In his early years (mid-2000s) while breaking into the Barcelona first team, and later under Enrique as the club swept their way to an incredible treble in 2014-15. The application of his talents was different, but in both periods he was deployed in the same right-wing role.
Messi was at his most dynamic and energetic at the beginning of his career, catching the eye thanks to his ridiculous, mazy dribbles that took entire teams out of the picture. He would pick the ball up and start running. The missed tackles and attempted fouls would then follow, with the Argentinian leaving a trail of destruction and bodies behind him as he surged toward a terrified goalkeeper.
He was so nifty and agile, his change of direction and acceleration so fast, no one could wrap him up. He could also maintain those runs over long distances, his top speed tallying up with his other traits, allowing Barcelona to move the entire length of the pitch through him.
Credit: Sky Calcio
Close to a decade later, he would resume that right-wing role—having spent time in more central positions in the interim—playing opposite Neymar under Enrique. The team still moved the ball forward through him but also utilised his incredible long-range passing more.
Barca's most common attacking move during Enrique's first campaign was for Messi to dribble forward, dragging multiple players toward him, and then switch the play to Neymar on the opposite flank, who could isolate his full-back and then tear him to shreds one-on-one. La Blaugrana's opening goal in that year's Champions League final against Juventus was the perfect depiction of this strategy.
Messi 2.0: The False-Nine
Barcelona's Argentinian forward Lionel Messi scores a goal during their Spanish League football match FC Barcelona vs Real Sociedad on December 12, 2010 at Camp Nou stadium in Barcelona. Photo credit : LLUIS GENE | AP | Getty
Enrique did not stumble upon Messi's ability to pass accurately over long distances; that was a trait showcased liberally by Guardiola, who was responsible for creating the second phase of the Messi monster—the false-nine.
Undoubtedly, this was the period in which Messi was at his most productive and effective in front of goal. He became the central piece—literally—to the most high-octane attack in the world, linking fluidly with the likes of Thierry Henry, Samuel Eto'o, David Villa and Pedro over a span of four seasons.
His statistical output during this time was ludicrous. His goal tally rose steadily with each passing season, culminating in a 73-goal campaign in 2011-12 and a 91-goal calendar year in 2012. He never failed to register double digits in assists either, managing as many as 29 in the same season he topped out on goals.
Key to this was his new position, playing as a false-nine. Guardiola brought him in the centre and placed a speedy, clever forward either side of him, then asked Messi to drop deep (encouraging the defensive line to follow him up the pitch), turn on the ball and pick out a colleague's darting run in behind.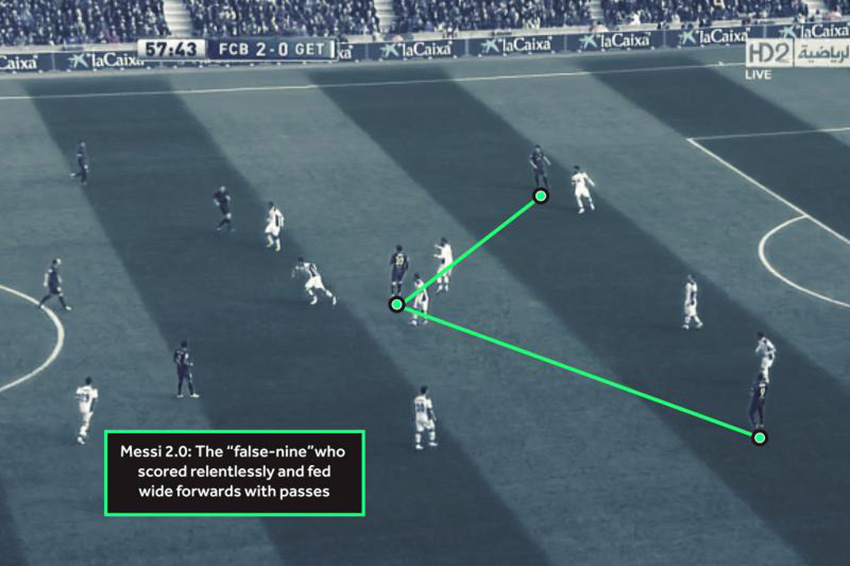 Credit: HD2
Team after team fell prey to it, with either Messi setting up one-on-ones for the likes of Villa to gobble up, or him receiving the ball back from the byline area to slot in. His involvement in how Barcelona constructed attacks soared, and, critically, his central position between the lines placed him in the ideal spot to connect with Sergio Busquets directly.
Barcelona became synonymous with mesmeric, elongated passages of play during this time, but they also regularly skipped toward goal with just two passes—Busquets to Messi, Messi into the path of a runner.
The other hallmark of Barca's play during this period was their pressing, or more specifically, counter-pressing. Immediately after losing the ball, no matter how high up, they committed bodies forward to reclaiming it as quickly as possible. Busquets was the most important factor in these scenarios, followed by his fellow midfielders, but Messi played a part.
Utilizing quick bursts, he would nip in and steal possession, creating turnovers high up for Barca to profit from. He was no Roberto Firmino-style workhorse but participated nonetheless. The 2009-10 season saw him register 0.9 tackles and 1.2 interceptions per game in La Liga—numbers only just shy of prolific runner Pedro (1.2 and 1.2)
Messi 3.0: The Enganche
GALICIA, SPAIN - APRIL 29: Lionel Messi of FC Barcelona scores the sixth goal to make it 2-4 during the La Liga Santander match between Deportivo la Coruna v FC Barcelona at the Estadio Municipal de Riazor on April 29, 2018 in Galicia Spain Photo Credit : Dav Soccrates Images | Getty Images
The installation of Ernesto Valverde as Barca manager this season has seen Messi assume a pure No. 10 role, stepping back inside from the wing position Enrique deployed him in post-Pep. What defensive work rate he offered at the turn of the decade has disappeared, though; it would be more accurate to label him an enganche—the Argentinian term for playmaker, but specifying that he has almost no defensive responsibility.
Messi's focused on attacking efficiency, with his defensive actions dropping to a negligible level. Registering just over half the number of tackles per game (0.5) and one-sixth of the interceptions (0.2) than the last time he played centrally, it's noticeable that Messi has largely stopped running when his team are out of possession.
This is in part a byproduct of Valverde's more passive game plan. Barca still utilise a counter-press from deep in midfield—led by Busquets and reinforced by Ivan Rakitic and Paulinho—but the forward line aren't expected to contribute as much. Given Luis Suarez is 31 and Messi is 30, that's probably wise.
Credit: Sky Sport
Suarez and Messi have been colleagues for almost four years, but never before this campaign have they played directly in line, the former in front of the latter. That's another tweak to Messi's current role: He may have operated in this space before, but he was the only one in it then.
It's also arguable he's never been relied upon more at any stage of his tenure in Barcelona's first team than right now. With Xavi gone, Andres Iniesta slowing and Ousmane Dembele still developing, Messi is the attacking game plan; everything runs through him in the final third.
That's the flip side of their new-found defensive stability instilled by Valverde. This iteration of Barcelona are hardly the belle of the ball, but they're efficient, hard to beat and often only rely on Messi to conjure one moment to win a game—something well within the Argentinian's remit.
With such a creative burden on his shoulders, it makes sense to rest him on the job as much as possible. Messi 3.0 is the least active and yet most integral part of the evolutionary line, and it might not even be his last form: Who would bet against him moving even deeper in the future and dictating from central midfield, a la Andrea Pirlo or even Xavi of years past?
Primarily Published at : Bleacher Report