Photo Credit : Deccanchronicle
Kanhaiya Kumar's comeback 'azaadi' speech at JNU evoked massive praise from students, teachers.
Former Jawaharlal Nehru University Students' Union (JNUSU), an Indian University's president elected to Communist Party of India's national council.
Two years after he was released from Tihar jail, where he spent nearly a month following his arrest under charges of sedition, former JNU Students' Union (JNUSU) president Kanhaiya Kumar has finally moved away from university politics and taken his first step towards becoming a full-time politician.
On Sunday, the concluding day of the 23rd congress of the Communist Party of India (CPI) in Kollam, Kerala, the 31-year-old was elected to the 126-member national council of the party.
Symbol of movement
The Left parties find themselves in an ironic position — though they have considerable presence in university politics, their rank and file remain starved of young blood. "That situation is about to change," said Mr. Kumar, who became an overnight symbol of the JNU students' movement following his arrest.
Twisting the famous Charles Dickens line: 'It was the best of times, it was the worst of times', Mr. Kumar mused: "It is a bad time as well as a good time to be in politics for the youth. There is a serious threat to all our democratic institutions and there is so much hatred and polarisation. But this has also increased ideological awareness among the youth who are now more than willing to join mainstream politics."
In two months' time, Mr. Kumar will cease to be a student at JNU. "July 21 is the last date for submission of my thesis. After that I will be a social activist and not a student leader. But JNU is a second home for me and I will always remain organically connected to it," he said.
Criticising the government alone is no solution, he added, "instead, one has to offer an alternative". "Merely attacking Narendra Modi and the BJP government does not serve any purpose. We have to offer an alternative policy framework for the people to choose from," said the budding politician.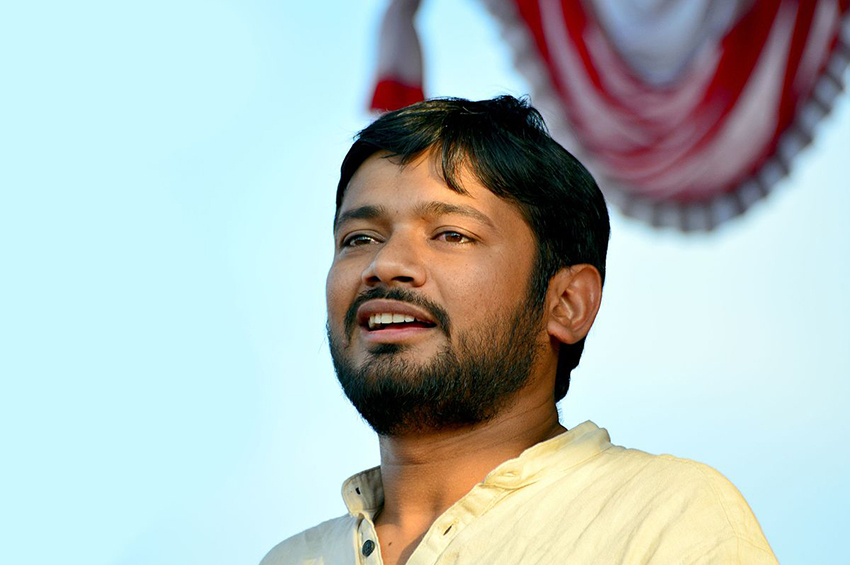 2019 elections
Mr. Kumar was born in Bihat in Begusarai district of Bihar — a stronghold of the communist party of India (CPI). He does not deny that he will be fighting the 2019 Lok Sabha polls. The Begusarai Lok Sabha seat is currently held by BJP's Bhola Singh.
The CPI had received 17% of the vote share in the 2014 Lok Sabha polls.
"Now I am with the CPI and I will do whatever the party and its allies decide. I am not saying that if given a chance I will not fight the polls," he added.
As a member of the CPI's student wing, the All India Students' Association, he was elected as president of the JNUSU. He was arrested on February 12, 2016, under Sections 124-A (sedition) and 120-B (criminal conspiracy) of The Indian Penal Code (IPC) for allegedly organising an event where some students had protested against the hanging of Parliament attack convict Afzal Guru and had allegedly shouted 'anti-national' slogans. He was released from Tihar jail on March 3, 2016.
Primarily Published at : The Hindu