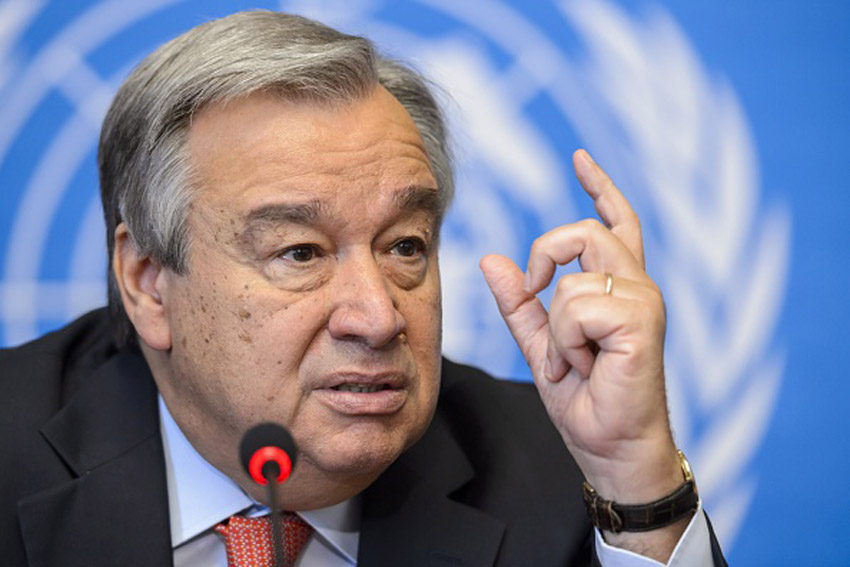 File photo | web
UN Secretary-General Antonio Guterres on Tuesday expressed concern about continued reports of attacks throughout the besieged enclave of Eastern Ghouta in Syria as well as reports of shelling of Damascus, said his spokesman.
Attacks reportedly claimed more than 100 lives on Monday, said Stephane Dujarric, the spokesman. The secretary-general called on all parties to immediately allow safe and unimpeded access for humanitarian delivery, he said.
A convoy of the United Nations, the Syrian Arab Red Crescent and the International Committee of the Red Cross, which was delivering life-saving humanitarian assistance to 27,500 people in Douma, Eastern Ghouta, could not complete the delivery on Monday because of insecurity.
As a result, 14 of the 46 trucks in the convoy were not able to fully offload critical humanitarian supplies. Nearly half of the food the convoy carried could therefore not be delivered. Moreover, a part of the medical and health supplies to be included for delivery was removed by the Syrian authorities, said the UN spokesman.
The secretary-general asked the parties to allow the completion of the delivery to Douma, including medical and health supplies, planned for Thursday, he said.
The UN chief reminded all parties of their obligation under international humanitarian law and human rights law to protect civilians and civilian infrastructure at all times and of the basic responsibility to ensure the necessary protection of all humanitarian organizations, personnel, facilities and other relief assets, said the spokesman.
The secretary-general urged all parties to fully implement the newly adopted UN Security Council Resolution 2401, which demands an immediate cease-fire across Syria to allow humanitarian access and urgent medical evacuations.
Syrian government troops intensified efforts in mid-February to retake Eastern Ghouta, the last major rebel stronghold in the country. Air strikes and fighting on the ground have caused a dire humanitarian situation, which Guterres has described as "hell on earth" for the 400,000 inhabitants.